Havana Meets Kingston – Melbourne concert at The Forum
Once in a lifetime you get to hear some music that absolutely blows you away and changes the way you hear and feel music holding its creators on a throne. 
Well we have been heavily influenced to say the least by all the beauty that Havana Meets Kingston has fused together and we are proud to be supporting the Melbourne concert at The Forum Theatre on March 15.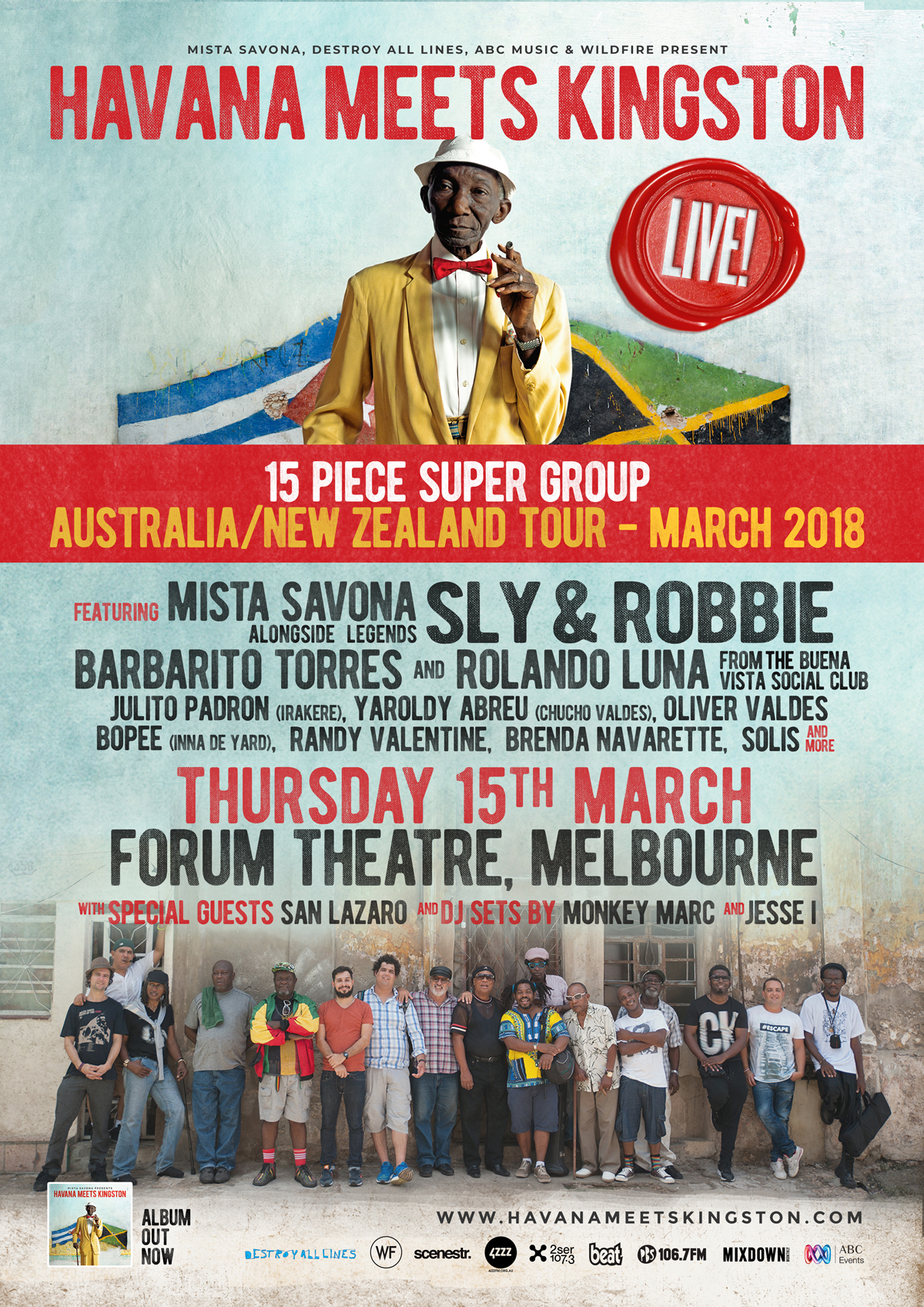 HAVANA MEETS KINGSTON, is the new album release by Australia's leading reggae and dancehall producer Mista Savona (aka Jake Savona). The innovative, culture-centric album pairs legendary and emerging Cuban and Jamaican musicians to reimagine classic songs and create new compositions, infused with Jamaican reggae and dancehall, traditional Cuban and Afro-Cuban rhythms. HAVANA MEETS KINGSTON is the first full-length project to present the blended sounds of these two distinct island nations supported by an all-star cast of musicians.
The HAVANA MEETS KINGSTON 15 piece 'Super group' will launch in Australia and New Zealand, on tour in March 2018. Playing dates at WOMADelaide, Brisbane, Sydney, Melbourne and WOMAD NZ. This is a world first tour, not to be missed!
A soundclash with a difference, bringing roots reggae, dub and dancehall together with son, salsa and rumba. The HAVANA MEETS KINGSTON band boasts the heavyweight rhythm section of Sly & Robbie and a formidable lineup of musicians including Barbarito Torres and Rolando Luna from Buena Vista Social Club, alongside members from Los Van Van, Chucho Valdes and Inna de Yard. Emerging artists featured with the band are the hot new talents of Randy Valentine, Solis and Brenda Navarette.
Of the 15 new recordings on the album, fresh versions of  "Chan, Chan", "El Cuarto De Tula", and "Candela", made famous by the album/film Buena Vista Social Club present a blended Caribbean flair. The album was recorded at Egrem Studios (Estudios Areito 101) in Havana and features performances by Grammy award winning reggae duo Sly & Robbie with original and current Buena Vista Social Club instrumentalists Barbarito Torres and Rolando Luna among others.  New renditions of classic reggae songs; "Vibracion Positive" (Rastaman Vibration), "Row Fisherman Row" and "100 Pounds of Collie" feature the talents of vocalists Turbulence, Randy Valentine and Prince Alla among others. The music video and original single "Carnival" launched the project, in early 2017, featuring emerging Cuban artist Solis and Randy Valentine. It was followed by the current single "El Cuarto De Tula", featuring Maikel Ante, El Medico and Turbulence.
For generations, Cuba and Jamaica have been at the forefront of trends in music, art, fashion and food throughout the Americas. HAVANA MEETS KINGSTON meshes these musical pathways, effortlessly blending Cuban rhythms and melodies with reggae's rumbling basslines and hypnotic drums, resulting in an exceptional listening experience.
Get your tickets no here: http://bit.ly/HMK18melb